2018 Adoption/Success Story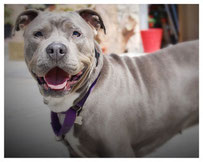 OLIVE (Staffordshire Terrier) - large size-
ADOPTED !!

Olive is appx 5 years old beautiful Staffordshire Terrier who was recently rescued from a local high kill shelter. She gets along with all dogs she has met... and great with people. She has a very sweet personality and loves to cuddle. 
She had entropion and we recently provided surgery. Her eyes are completely healed and look clear. She is about 65 lbs, low rider, spayed, received UTD shots and microchipped. She is currently at her foster home with other dogs (large and small) and child.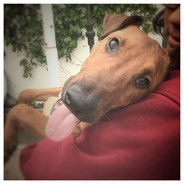 SOLIN (Doberman mix) - large size-
ADOPTED !!!!
Solin was rescued from a junk yard in Colton. He was abused by people who worked there. He is still sweet and loves people. He gets a little shy in the beginning but warms up quickly. 
He is GREAT with other dogs. He is about 4-5 months old, already neutered and received UTD shots. He is microchipped as well. 
He is currently about 25 lbs but we believe he will be a medium to large size. His paws are big. We are not sure his breed... He has paws like a Doberman... but looks Ridgeback..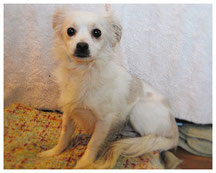 CHIBI (Pekingese mix) - small size-
ADOPTED !!!

Chibi was rescued from hoarding case with his siblings. He is very shy in the beginning but he is actually a very sweet, affectionate and playful once he warms up. He is about 10 lbs, quiet, good with other dogs in any size, may chase a cat but no aggression. He received UTD shots, microchipped and neutered. He has a very soft fur with a beautiful long tail.