Foster Application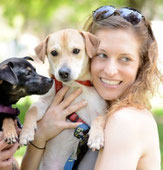 ASK LACEY!
Lacey is one of DOGzHAUS' volunteers who has fostered several dogs for DOGzHAUS and is our foster mentor. We care about our fosters as much as we care about the rescued dogs providing personal attention to show we appreciate and want our fosters to be happy about fostering our rescued dogs.
Being a foster mentor, Lacey regularly contacts fosters to make sure everything is going well with their foster dog and offers advice if needed.
DOGzHAUS encourages our fosters to ask Lacey for help with any issues the foster dog is possibly having, care and/or products ( food , medication ) the dog needs. DOGzHAUS provides the first time foster with step by step help in order to make  fostering a positive experience. Contact Lacey: info@dogzhaus.org

Fostering an animal can be one of the most rewarding things you do. The dogs and cats that DOGzHAUS rescue come from local animal shelters. After a stressful life in the shelter (and for various other reasons) dogs are typically scared and sometimes shy. Many of these animals have never been given any love, training, or medical treatment until they are brought into the shelter and/or our foster program. DOGzHAUS provides all medical treatment a foster dog may need.

If you are interested in fostering a rescued dog, please click the application below, fill it out and return it to us. We will contact you shortly after receiving the application.
If you are still wondering what fostering is, please click here "Fostering: What's it All About" for more details.
Foster Application
Section 1 - Personal Information
Thank you for interest  in fostering a rescued animal. The information you will provide on this application will help us make the best possible match between each rescued animal and a prospective foster home.
Please be sure to answer all questions as completely as possible. Omitted information may require follow-up contact by a DOGzHAUS volunteer.
Foster Agreement PDF
After you filled out the foster application and are approved as our foster, you will need to agree with our foster agreement.
Please click the PDF icon and read the agreement.
If you can't agree with it, please do not submit the foster application.
info@dogzhaus.org
Foster Agreement for website.pdf
Adobe Acrobat Document
170.1 KB