Available Dogs
Thank you so much for being interested in our dogs. Most of our rescued dogs are living in foster care. DOGzHAUS places dogs into foster homes after they have spent several weeks or months at the shelter without being adopted. This gives the dog a chance to recover from the stress of being kenneled, while providing space in the kennel for a new dog. Additionally, the foster volunteer has the opportunity to work with the dog to correct some of the behavior problems that may have led to the dog's surrender.
The more fosters we have, the more dogs we can rescue/save. If you can't adopt a dog, please consider being a foster. If you can't foster, please consider donating to the fund (any amount will be appreciated). DOGzHAUS depends entirely upon donations to continue saving lives.
The dogs on the list below are currently living in foster care (Mynka is at the boarding kennel) For more information, please go to our contact page and ask us!
You can also check our available dogs on ADOPT A PET website:

http://www.adoptapet.com/shelter88637-pets.html

Please check out our available dogs below. We have several dogs who are not available yet because they were just rescued from the shelter, are still in medical condition or are still in training condition. Those dogs are getting treatment/training at their foster care and will be posted on this page as soon as they are ready for the adoption. If you don't find any dogs you are interested in, please contact us or come back to this page later.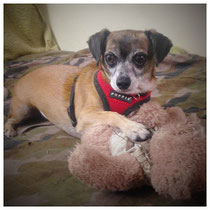 Brigit is
7
years old and

 joined DOGzHAUS from a local high kill shelter. She is safe at our foster but still needs time to come out from her shell. She was very scared of people (has never shown fear aggression but runs away from people) but has been getting better and better. If you are interested in meeting her Please fill out our "Adoption Application"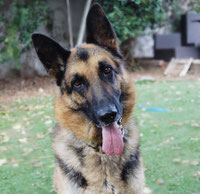 Lenny (German Shepherd)-large size-
Neutered male. Approximately 60lbs. UTD on shots, micro-chipped. We believe he's about 5 yrs old.

He has been in foster care and has been well socialized with dogs and people. He gets along well dogs of all sizes and is a very playful and friendly boy. LOVES people and children.  No cats. He does very well with an experienced handler. 

If you are interested in meeting him Please fill out our "Adoption Application"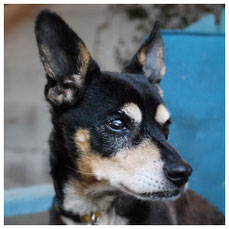 BOAR (mini pin mix) -small size-
Boar is about 10 years old, 16 lbs,  neutered male. His hearing is weak but is a very healthy dog. He is quiet and enjoys affection. He loves a walk but sleeps a lot during the day. A very lovable senior dog who is super sweet and good with other dogs. He would love to stay next to his person and follows the person everywhere. He is also house trained and crate trained. When we rescued him, he was under weight and did not have hair on his back/butt area. His fur has grown back except for his tail area. 
MYOKO (German Shepherd) -large size-
Myoko is 4-5 years old young female German Shepherd. She is about 70-75 lbs, light tan color with dark brown color on back. Black muzzle. She is good with most of other dogs. She is great with male dogs and may not be good with a dominant female large dog. She is very sweet and walks well on a leash. She is good with small children as well.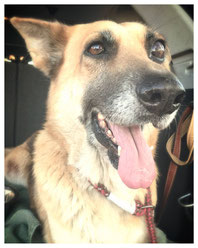 AMELIA (German Shepherd) - large size- 
Amelia is great. She is good with other dogs and very sweet. She walks well on leash and well mannered in public. She recently had her right eye removed due to glaucoma but it does not stop her from being active. One eye Amelia is nothing different from a normal dog and she has no problem to see in dark as well. Her left eye also has a minor glaucoma issue which can be worse in the future even though we continue providing a treatment with a specialt care.
We were told by the shelter that she was about 9 years old. She is playful, loves her toys and doggie friends. About 60 lbs.

JOSIE (German Shepherd) -large size-
Josie is appx 1.5 years old. She is a little smaller than an average size. About 60 lbs. We rescued her from a local high kill shelter at the day when she was scheduled to be euthanized. She is a very smart and sweet girl but also very protective and shy in the beginning with a stranger. She has a bite history and LA County issued a restriction order to her... but she is a perfect German Shepherd who is highly trainable with an experienced breed dog owner. Her foster family said she was one of the best dogs.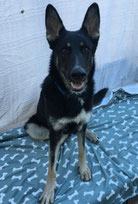 NOAH (German Shepherd) - large size-
Noah just joined DOGzHAUS RESCUE. He is 1.5 years old and still needs some training. He is very friendly, good on leash, loves other dogs of any size and seems okay with cats. He can be very calm individually but is VERY playful when he is in a dog play group. He is big already about 85 lbs and still growing. He is mostly in black color and some tan color. He loves everything he meets including a stranger and very sweet. He has a little separation anxiety but has been crate trained as well. Neutered male. Receive UTD shots and microchipped

LILY (Belgian Malinois) -large size-
Meet Lily. She is about 3-4 years old, spayed female, about 60 lbs and Belgian Malinois Breed. She was originally rescued from a local high kill shelter and adopted through our rescue organization about a year ago. However, her adopter is in the military and received orders to move out of country. She needs to find a new home.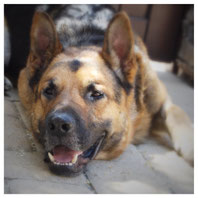 CHIEF (German Shepherd) - large size-
ADOPTION PENDING
Chief just joined DOGzHAUS RESCUE. He is 88lbs, 4 years old neutered male. He has minor skin issue and has been receiving treatment. He will be available for adoption soon. 
JOOP (German Shepherd mix) - large size-
Joop just joined DOGzHAUS RESCUE. He is great with other large size dogs and very playful. He has a lot of energy and loves to run. He is a little shy with a new person but will warm up quickly. He is appx 1.5 year old, 65 lbs, neutered male.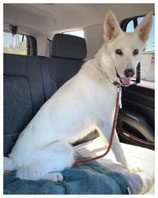 DAISY (WHITE SHEPHERD) -large size-
Meet Daisy! Daisy is 1,5-2 years old White German Shepherd. She is very active and high energy. She loves to play fetch as well. She is very sweet with people but very selective with other dogs. She might be okay with a mellow submissive male dog. No cats. 
She is about 50 ls.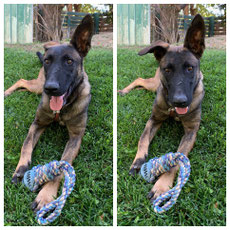 ANDY (Belgian Malinois) - large size-
Andy just joined DOGzHAUS RESCUE from a local high kill shelter. He just turned 1 year old. About 55 lbs. Neutered, microchipped, received UTD shots. He is calmer than an average Belgian Malinois but still needs a lot of exercise and training. He is very good to stay around you, comes to you when you call, and walks well off leash as well. Because he is Belgian Malinois, we prefer a breed experienced dog owner. He is good with other dogs and used to live with small children at his previous family's house.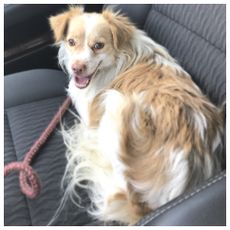 MONKEY (spaniel mix) - small size- 
Monkey recently joined DOGzHAUS. He was very shy and terrified to be pet in the shelter. He is taking a time but has shown a lot of progress to feel better. He loves other dogs in large size and needs a little time to warm up with a stranger. 
Once he knows you, he is very sweet. About 20 pounds. 2 years old.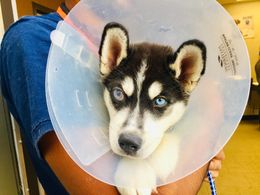 SKEETER (Husky) - large size-
Skeeter is a 2.5 month old Husky puppy. His right eye has glaucoma and we are scheduled to remove his eye. Except for his eye issue, he is healthy, active, sweet and playful just like other 2 months old puppies. 
About 23 lbs and will be about 60 lbs.