Available Dogs
Thank you so much for being interested in our dogs. Most of our rescued dogs are living in foster care. DOGzHAUS places dogs into foster homes after they have spent several weeks or months at the shelter without being adopted. This gives the dog a chance to recover from the stress of being kenneled, while providing space in the kennel for a new dog. Additionally, the foster volunteer has the opportunity to work with the dog to correct some of the behavior problems that may have led to the dog's surrender.
The more fosters we have, the more dogs we can rescue/save. If you can't adopt a dog, please consider being a foster. If you can't foster, please consider donating to the fund (any amount will be appreciated). DOGzHAUS depends entirely upon donations to continue saving lives.
The dogs on the list below are currently living in foster care (Mynka is at the boarding kennel) For more information, please go to our contact page and ask us!
You can also check our available dogs on ADOPT A PET website:

http://www.adoptapet.com/shelter88637-pets.html

Please check out our available dogs below. We have several dogs who are not available yet because they were just rescued from the shelter, are still in medical condition or are still in training condition. Those dogs are getting treatment/training at their foster care and will be posted on this page as soon as they are ready for the adoption. If you don't find any dogs you are interested in, please contact us or come back to this page later. 
MYNKA (Pit Bull Terrier )- medium size- 
My name is Mynka.  She's a very happy and joyful 3 year old female Pit Bull Terrier. She is a doll, and her goofy ears and spotted belly are always the first things people fall in love with. She is great on a leash, well mannered in the home and love kids.
Read More....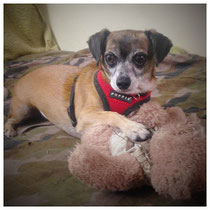 Brigit is
 4
 years old and

 joined DOGzHAUS from a local high kill shelter. She is safe at our foster care but still needs time to come out from her shell. She was very scared of people (has never shown fear aggression but runs away from people) but has been getting better and better. If you are interested in meeting her Please fill out our "Adoption Application"

SMOKEY (German Shepherd) - large size-
PENDING
Smokey is 8 years old, neutered male German Shepherd who was rescued from local high kill shelter in Los Angeles. 80 pounds. He came to the shelter as Owner Surrender. He knows many commands, walks well on leash, loves car rides and is very smart. He was perfectly trained as a guard dog so he needs a handler who has a deep knowledge of this breed and a lot of experience.
If you are interested in meeting Smokey, please "Contact Us".
Lenny (German Shepherd)-large size-
Neutered male. Approximately 70lbs. UTD on shots, micro-chipped and crate trained. We believes he's about 3 yrs old. Great with dogs of all sizes, cats, and LOVES everyone he has met.

He originally came to the shelter as a stray dog at the end of June. Someone adopted him from the shelter in early October... For some reason, about a week after he adopted Lenny, he came back to the shelter and adopted one more shepherd as his second dog. She was dog aggressive and it didn't turn out well for Lenny. Read More.....

ATHENA (German Shepherd)- large size-
A gentle Athena is very sweet and loves people and other dogs. The shelter said she was 11 years old but we are guessing she might be about 7-8 years old. She is currently receiving the vet treatment for her paw injury and also has a minor hip dysplasia. She walks well and enjoys her play time. She has a mellow personality. About 65 lbs and needs to gain at least 10 more pounds. 
LITTLE BUDDY (Border Collie mix) - medium size-
Little Buddy was wandering in a field near a Native American Reservation area in Palm Springs and rescued by our volunteer.  He is appx 2 years old. Black and White color Border Collie mix. He is about 35 lbs and fully grown. 
We will provide more information about Little Buddy soon. 
ZIGGY (Beagle/Jack Russell/Chihuahua mix)
- small size-
Ziggy is about 20 pounds, 5 years old, neutered male and super sweet. He is great with people and other dogs. He was just rescued from a local high kill shelter and we need more time to know him better.
He has some medical issues and needs more tests. 
More information is coming soon. 
ROSIE (Pit Bull mix) - large size-
Rosie is an energetic young pit mix (basenji +?) who bonds immediately and is very affectionate. We think she's 1 1/2 - 2 years old at most. She's medium size (51 lbs), compact and in great shape with a beautiful very short soft coat. Rosie definitely had some training with her previous owner, she's very alert when called and runs over and sits. She returns a toy when you play with her, and also will play on her own. We think it would be great to continue training her since she's so receptive, and helps focus her energy. It might be best for Rosie to be the only dog until she gets a little older and has more social experience. She gets very excited about new dogs at first and needs to practice introductions. She does live with 3 little dogs and one her size, they all get along (with monitoring) but Rosie can still be impulsive. She

needs

excercise! And then there's the cats, surprisingly she doesn't chase them down, she is very interested but seems to restrain herself. However much she shows control, it would still be best if there weren't any cats in her home:) Rosie has shown what a loyal companion she can be, very attached to her person, and a times she tries to be a lap dog, very eager to kiss and cuddle. Her new owner will get the samろs treatment, but will have to be careful that she's not possessive and take time with new introductions whether human or animal. In public she makes new people friends pretty easily. She's young and a beautiful work in progres
BAMBOO (poodle/maltese mix) -small size-
Meet Bamboo! Bamboo is appx 2 years old, neutered male, 11 lbs and super sweet. He is always smiling, loves to play with his toys, friendly to everybody he meets and great with other dogs. Bamboo was hit by a car and has been paralyzed. After we rescued him, we took him to a neurologist and found out he had no surgical option because his injury was old. He was recently neutered and is waiting to start having a physical therapy.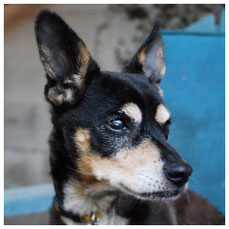 BOAR (mini pin mix) -small size-
Boar is about 10 years old, 16 lbs,  neutered male. His hearing is weak but is a very healthy dog. He is quiet and enjoys affection. He loves a walk but sleeps a lot during the day. A very lovable senior dog who is super sweet and good with other dogs. He would love to stay next to his person and follows the person everywhere. He is also house trained and crate trained. When we rescued him, he was under weight and did not have hair on his back/butt area. His fur has grown back except for his tail area. 
PORK CHOP (pug/chihuahua mix) -small size-
Pork Chop is about 13-14 lbs, 3-4 years old Doxie/Chi mix. He is friendly and good with other dogs. He just got neutered and has been recovering. Once he is fully recovered, he will be available for adoption around mid October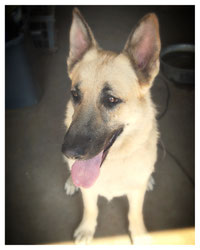 MYOKO (German Shepherd) -large size-
Myoko is 2-3 years old young female German Shepherd. She is about 70-75 lbs, light tan color with dark brown color on back. Black muzzle. She is good with most of other dogs. She is great with male dogs and may not be good with a dominant female large dog. She is very sweet and good to walk on a leash. 
CHIBI (Pekingese mix) - small size-
He was rescued from a local high kill shelter on September 28 and is still going through his decompression period. Once he is settled down better, we will provide more information. He is 10 lbs, 2 years old, neutered male, good with other dogs, cats and children. 
LOLA (Shih Tzu mix) - small size-
Lola is so quiet, sweet and easy. She is appx 10 years old, her eye sight is not so great but she is not completely blind. She needs few days to figure out her new environment but has no problem to walk around without being lost afterward even though her vision is not so great. She is basically house broken, in good healthy condition, loves to eat, great with other dogs and people including small children. She can entertains herself with toys (she LOVES stuffed animals) She deserves a great home to have her senior life. 
She is spayed, microchipped and received her UTD shots. 
RUSTY (Belgian Malinois) - large size-
Rusty just joined DOGzHAUS RESCUE from a local shelter. He just turned 1 year old, 60 lbs, neutered, received UTD shots and microchipped. He is a sweet dog but needs an experienced breed owner. He loves a training and requires a lot of exercise. As you see this breed in military all the time, Belgian Malinois is not for everyone. We prefer an experienced breed owner who understands to invest for the long term training and is active enough to give a proper exercise (normally this breed runs 10 miles a day or a similar exercise at least)